Welcome
I don't know the impossible, and I don't like him to know me
Brief words about me, I'm sure
Whoever fears God, He makes a way out for him, so do not fear anyone but God
Love works miracles, so love everyone who loves good
Diligence puts hope and creates the future, so do not tire or tire in your pursuit of your goal
What you do is returned to you, as you condemn it.
The First Show is a daily program broadcast on Egyptian radio, showing the history of Egyptian cinema and theater from
Read more
 Episode 2 of the "Good Evening, Egypt" program with the scientist Dr. "Mohamed Salah Al-Nashei", a professor at the
Read more
completed projects
Some of the projects that have been delivered
call me
You will receive your message as soon as possible
literary works
Novelist and poetic
An invitation to resolve disputes An invitation from my heart to the lover of my soul and my life, let
Read more
بخاف عليكي احدث اعمالي التى لا يتخطي عمرها 24 ساعة، فسلاما لمن صنعت في قلبي الهوي واخرجت مني كلام ما
Read more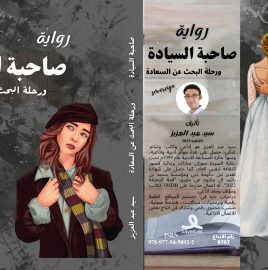 Between the struggle of the mind, the heart, and the conscience, and the gaze of the Lord of the servants on the poor servant, my pen wove those threads, and my imagination wandered like the hands of an octopus, so I wrote poetry, hope, life, and its endless experiences, including truth and imagination, and the debate between good and evil.
هذه الرواية من وحي خيال المؤلف وأي تشابه في الأحداث أو الشخصيات أو الأسماء أو المعالم هو من محض المُصادفة لا أكثر، وقد تأخذ تلك الرواية شكلا من أشكال واقع الحياة، وهذا قابل للحدوث والتكرار في اي زمان او مكان وعلى أي ارضاً او وطناً او عنوان، دون ادني مسئولية على المؤلف.
Achievements
Achievements in many different fields
internet radio solutions
Training courses in various fields
Approximately an hour of preparing programs and open periods on the air

An hour of audio engineering, mixing and transmission engineering